How do you decide who to follow on Twitter?
A quick glance through my Twitter feed offers an eclectic mix of other writers (of all genres), journalists, parent bloggers, beauty bloggers (my guilty pleasure), police forces, bookshops, publishing types, and Real Life Friends (yes, I have some).
I asked some of my crime-writing buddies to share just one of the Twitter accounts that help them waste valuable writing time on social media.
Who to follow on Twitter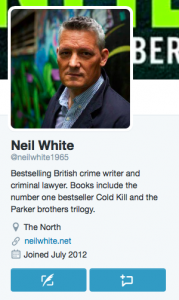 I try not to follow authors as I find my self-esteem trashed with tales of success and great reviews. The only authors I follow are the ones I regard as friends (ie, they once bought me a drink or something – I'm so cheap). I follow @CCTV_idiots for the laughs. 
Neil White, author of The Death Collector @NeilWhite1965

I follow @drjezphillips because he's a psychologist who very generously helped me with research into dissociative amnesia for my third psychological thriller, The Missing.
CL Taylor, author of the Lie  @callytaylor
I follow @RevengePornHelpline who are the UK's first dedicated service to help victims of revenge porn. They kindly helped me with research for the book I'm currently working on, and alongside the @UK_SIC (the UK Safer Internet Centre) they are at the forefront of the fight against cyber crime; highlighting, educating, and campaigning for changes to the law to reflect and challenge the way tech advances are used in criminal activity: the very ideas I seek to explore in the Social Media Murder Series.
Angela Clarke, author of Follow Me @TheAngelaClarke


I follow @KTHopkins because she makes me laugh and I love watching people bounce up and down with outrage every time she says something controversial. (I don't get out much.)
Sharon Bolton, author of Little Black Lies @authorsjbolton
I follow @donwinslow because he tells the truth about the Mexican drug wars, he tweet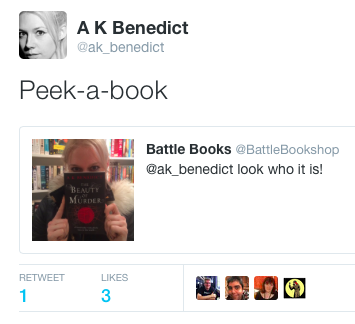 s the BEST contract and writing advice and he's one of the finest authors working today. He's also super cool.
Steve Cavanagh is the author of The Defense @SSCav

I follow mortician and author @thegooddeath because she talks positively about death, posts podcasts on postmortem procedures and links to bizarre, macabre objects. She is also dead funny.
A K Benedict, author of Jonathan Dark or The Evidence of Ghosts @ak_benedict
I follow @Philippa_Perry because she's an entertaining & wise psychotherapist; @SaraPascoe because she's an entertaining & wise comedienne & @HadleyFreeman because she's an entertaining & wise journalist (you get the gist)
Claire Seeber, author of 24 HOURS @claireseeber
With so many deliberately angry Tweeters out there, I follow @Highgatemums for a bit of light relief and humour in my timeline (also, my next book is set near Highgate, so I tell myself it's research).
Fergus McNeill, author of Eye Contact @fergusmcneill



I follow @ravencrime because whenever she recommends a crime translation, she's always spot on. I've found some great reads through her.
William Shaw, author of A Book of Scars @william1shaw
I follow @getinthesea for entertainment and to make me feel better about my shouty opinions. Also, I live near the sea and I like to research things I could throw in it.
Elizabeth Haynes, author of Into the Darkest Corner @elizjhaynes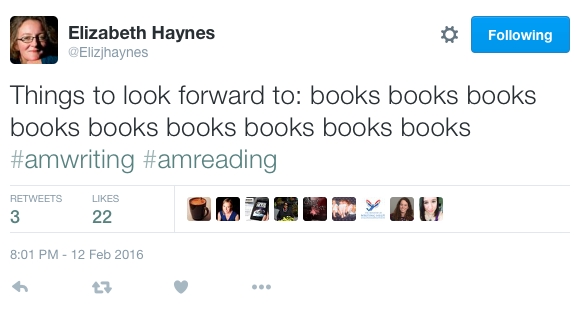 I follow @broodingYAhero because it reminds me characters deserve to be more than props and it makes me laugh.
Jane Casey, author of After the Fire @janecaseyauthor
I follow my husband, @SergioCasci, to find out where he is.
Helen FitzGerald, author of Viral @fitzhelen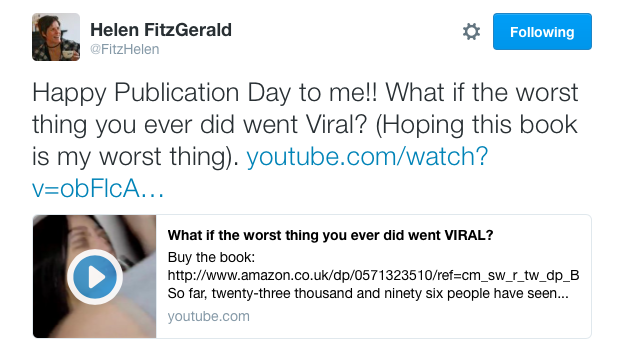 I follow @oldspicsarchive because they share excellent photos of movie stars and musicians from the olden days (like the 80s) and they make me smile with nostalgia.
S J I Holliday, author of Black Wood @SJIHolliday
I follow @soverybritish because I suffer horribly from Very British Problems and I like
looking in a mirror.
Amanda Jennings, author of In Her Wake @mandajjennings (who is now panicking because she might have upset someone who feels a Very British addiction to over-thinking and tea isn't something to joke about.)


How do you decide who to follow on Twitter?
@claremackint0sh