I'm passionate about supporting independent businesses, so I'm delighted to be working with my local bookseller, Gwyn Sion Ifan, to offer signed and personalised copies of my books.
Gwyn runs Awen Meirion, a small but perfectly formed shop in North Wales. As a proudly Welsh store, Awen Meirion has a fantastic range of Welsh language titles, and books by Welsh authors. Since 2016, Gwyn and his team have been sending signed copies of my books all over the world.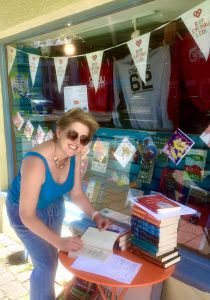 Fill out the form below to request a signed copy. Gwyn will be in touch to confirm the total cost and take payment. Whenever there's a book to sign, I pop into the shop for a paned (that's Welsh for a cuppa), so you'll normally have your book(s) within a few days. I'm happy to write whatever you like in the book, to make it a truly personal gift for you or a friend.
Even though we've been doing this for a while now, we still get excited when an order comes through. Buying from an independent shop is great for the author, fantastic for the bookseller, and brilliant for our high streets, so we really appreciate your support.
Once you've submitted your request, you'll receive a request for payment from the shop. If the book you want isn't out for a while, you might not hear until nearer the time. Don't worry – you won't be forgotten! Please email the shop directly if you have any queries.
Clare x