One of the questions I'm asked most frequently is how long does it take to write a novel? I wrote last year about the way life sometimes gets in the way of work, so I thought I'd follow that up with a post about when things do go to plan!
How long does it take to write a novel?
Every writer is different, and every book is different, so this is a breakdown of how long I spent working on LET ME LIE.
16th December 2016
I had the idea for book 3. It came to me on the train home from a meeting with my editor to discuss the draft of a book that wasn't really working (for all of the reasons outlined in the post linked to at the start of this one). I wrote a synopsis on the train and emailed it to my editor, who loved it as much as I did.
For the rest of December I worked out the plot. I already had a key twist in mind, but I knew there were more to tease out. I built my characters and did some research involving tide times, forensics, and mobile phones.
January – May 2017
I wrote the first draft of what was now called LET ME LIE. I stuck (loosely) to my plan, writing chapters in order, working in a rented office, while we waited to move into the house we were buying. (We had the offer accepted on New Year's eve 2016, and moved in on 20 April 2017, so the two events happened in tandem!)
If I wasn't writing in my office, I was writing on the move. During this period I spent two weeks on tour in Canada and the U.S., had various trips to London, appeared at literary events in France, Guernsey and the Netherlands, and took a much-needed holiday to Antigua. In April the paperback of I SEE YOU came out, which kept me busy with book signings and interviews. If you ever look up your favourite author and wonder how long it takes to write a novel, and why haven't they got another one out yet, take a look at their events diary!
June 2017
I finished the first draft of LET ME LIE at the end of May and sent it to my editor. So…*counts months* how long does it take to write a novel? Five months? No. Because a first draft isn't (for me, at any rate) a finished novel. Not even close. I was looking forward to the insight a good editor brings to a manuscript. A press trip to Barcelona happened to fall in half-term, so I took my family with me for a mini holiday. I had a couple of weeks to focus on other writing projects and on renovating the 200-year-old house we'd finally moved into.
23 June – 7 August
My editorial notes came back on 23 June. I had my usual 24 hours of despair, then started work. There were some big structural changes to make (removing subplots, changing the order of events to address pacing issues) and some substantial but straight-forward character work to tackle. Whereas my deadline for the first draft had been flexible (get it to us when it's finished) there was suddenly an immovable deadline: my editor was going on maternity leave. I needed to deliver before she did.
My editor began working more closely with another editor in the team, to make the handover as smooth as possible, and I got my head down and worked harder than I've ever worked in my life. I still started work at 10, after the school run and the dog walk (the only fresh air I was likely to get), but I didn't stop until 8 or 9 in the evening. My husband and children were amazingly supportive, creeping in with a G&T around 7pm, and letting me know when food was on the table. I took my laptop to Harrogate crime festival, wrote on every train journey I went on, and slowly inched towards the finish. Sacrificing some of the family holiday was inevitable, and for the first week of our fortnight in France, I worked from 9 till 1 each day. I sent the second draft to my editor(s) on 7 August, and finally relaxed.
August
On 15 August we took the ferry back to England, and my long-suffering family dropped me off at a train station. I headed to London, and they went home to unpack the camper van and address a small problem with the roof, which had fallen in while we were away… On my editor's last day at work I met her and my new editor to discuss what still needed doing on LET ME LIE. Everything felt very positive, and the timing was perfect. It had absolutely been worth the hard work, to ensure that both editors had sight of the second draft. I took the rest of the month off.
September
As the children went back to school, so did I. The third draft of LET ME LIE was straight-forward; about finessing the pace and tension, tweaking the characters and smoothing everything out. It's always my favourite draft – like decorating a room once all the replastering's been done! I had a couple of days at Bloody Scotland festival, and got the final draft in on time at the end of the month. My (new) editor showed me the proposed cover, and I loved it.
October
Previously I've done line-edits and copy-edits separately, but this time around we combined the two. Line-edits are – as the name suggests – editorial suggestions on a line-by-line basis. It might be because of language (this metaphor doesn't work as well as it should) or more plot based (this feels like it could be a spoiler). Meanwhile the copy-editor had gone through the manuscript with a fine toothcomb, looking for inconsistencies (the 14th of October that year was a Tuesday, not a Wednesday) and addressing my addiction to semi-colons. The net result is a Word document that arrives in my inbox full of track changes for me to amend, accept or ignore. I finished on 25 October, and the manuscript went for proof-reading.
November
On 6 November I received the page proofs of LET ME LIE. These are A4 printouts with each page of text laid out the way it will appear in the finished book. It's the absolute final chance an author has to pick up any typos that have slipped through the net (there will always be some, even after this stage!) and to make any final changes, although these can't be too big, otherwise the whole book will need to be typeset again, at great expense. On 15 November I sent back the page proofs by recorded delivery, and my desk-editor made the changes and sent the book to the printers.
December – March
Advance reading copies (also called proofs or galleys) were sent to authors, journalists, book bloggers and retailers over Christmas and into the New Year.
During this time, early quotes and reviews were added to the book's listings on various websites, and my publishers started to put together a marketing and publicity plan for the hardback, ebook and audio launch on 8 March.
And a book is born!
How long does it take to write a novel? In my case, about a year, and now I'm right in the middle of the most nerve-wracking bit of it: the time immediately before publication day.
There's only one way to take my mind off it… it's time to write another book.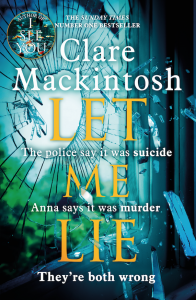 Pre-order LET ME LIE in hardback and claim a FREE signed bookplate.
For more special offers, giveaways and news about appearances and book signings, join Clare's book club.