In this series we go behind the scenes to speak to the people who take a book from the author's desk to the reader's shelves. In last week's post, what does an editor do? we met Cath Burke, one of the two editors with whom I worked on my latest book, LET ME LIE. Once the structural edits are finished, the manuscript passes to the desk editor, which is the subject of today's post. So, what does a desk editor do?
Meet the desk editor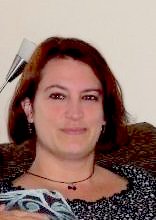 Thalia Proctor is a desk editor at Little, Brown Book Group, working with authors such as Mark Billingham and Val McDermid. Thalia started out in bookselling, working for the two crime bookshops of London, Murder One and Crime In Store, before joining Goldsboro Books when they moved to physical premises in Cecil Court. Her first foray in publishing was working for the scout Elizabeth Van Lear, and after that on to part-time cover at Orion, which turned into a full-time editorial assistant job. Then David Shelley asked her to join him at Little, Brown to desk-edit the crime list and she's been there eleven years, now working on all the different and wonderful types of Sphere fiction.
What does a desk editor do?
I basically do all the insides of a book. After the Commissioning Editor has finished with the structural edit, I see it through the various stages: copy editing, proofing and as many round of corrections after that as we need. I'll send the manuscript out to freelancers for copy editing and proofing, but I occasionally do it myself. I go through the copy edit to check all is well, I collate the freelancer and author corrections together, and I check all the corrections have been made by the typesetters. I get files of American titles we're doing from US publishers, and check over our edition of those. I also do a lot of admin for our systems, check covers and chase editors to keep the progress of the books rolling along.
Which books have you worked on recently?
I work on all the Sphere commercial fiction: crime, women's fiction and general fiction. Apart from overseeing the copy edit of Clare's book, just as a random selection at the time of writing this I was sorting out Mark Billingham's 2018 Quick Reads title, finishing the last corrections on a debut general fiction book called Happiness for Humans, going through the paperback proof of the new J.D. Robb title and helping to promote the book I brought in an online author for, a book called Snowflakes on Christmas Street.
What's the difference between a structural edit, a line edit, and a copy edit?
A structural edit is what the Commissioning Editor does when they first buy a book: a big-picture overview of how the book holds together. They'll suggest things like adding scenes to clarify something, losing a character or two if there are too many, fleshing out another character or relationship, swapping round chapters to better fit the plot, etc. A line edit is a more detailed version of that, but suggesting changes to specific sentences; depending on how the book is shaping up, they'll either a) do it at the same time as the structural edit, b) do it after the structural edit, or have someone else do it for fresh ideas, or c) not do it at all, it can go straight to copy edit. And a copy edit is checking the ms for details – catching things like an accidental change of eye colour or name in a character, checking facts, sorting out punctuation, avoiding repetition. (A proof, even though you didn't ask :-), is to catch anything the copy editor missed).
What should a reader do if they spot a mistake in a published book?
Write it down and send it in, as we can get it changed in a reprint if the error is valid – very important to be specific, though, because emails saying 'I found some mistakes in this book, you are all fools', without telling us which mistakes, are not helpful.
What skills/qualifications are required for your job?
Obviously qualifications involving spelling and grammar, but I didn't go to university. I started out in crime fiction bookshops in the days when such things existed and made lots of contacts through there, thus being lucky enough to work my way from bookshops with freelance editing on the side to book scouting to publishing. But you should have official copy editing and proofing courses under your belt, like those I did at the Publishing Training Centre. You need to be obsessed with detail and things being in the right place, and able to actually enjoy going through pages and pages of marking up random word changes until your arm hurts.
What do you like to read in your own time?
I still read a lot of crime fiction (mostly authors I return to, like Carl Hiaasen and Dennis Lehane, and not enough new ones) but when I go away I tend to take biographies or YA or amusing non-fiction like Bill Bryson with me. My very favourite author is Armistead Maupin.
Tell us something about Clare's next book.
LET ME LIE is only twisty, it's massively MOVING – it tugs at your heartstrings like anything. She really gets you involved in the emotions and relationships of her characters, as well as taking you on the wild ride of the story.
---
Note from the author: I love working with Thalia, who not only addresses my addiction to semi-colons, but saves me from embarrassment. As an example, in LET ME LIE there is a scene where Murray Mackenzie, a retired detective, is visiting his wife at a psychiatric unit. He describes the very old building, built in 1811, and mentions that it has always been owned by the NHS. Thalia gently pointed out that as the NHS was created in 1948, the building was presumably owned by someone else first… 
Next up: how are book covers designed?