Every day until Christmas Eve I'll be introducing you to an author whose debut novel came out this year. Today it's Dervla McTiernan.
About Derva McTiernan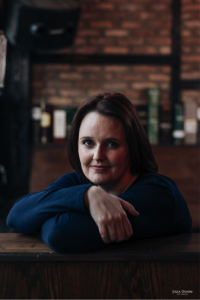 Dervla McTiernan was born in County Cork, Ireland to a family of seven. She studied corporate law at the National University of Ireland, Galway and the Law Society of Ireland, and practiced as a lawyer for twelve years. Following the global financial crisis she moved with her family to Western Australia, where she now works for the Mental Health Commission. She lives in Perth with her husband and two children.
Tell us about your book
The Ruin is a mystery novel. It tells the story of Cormac Reilly, an elite detective who returns to Galway in the rainy west of Ireland and is confronted by a case from his past – twenty years before he found two children alone in a crumbling country house, their mother dead in a bedroom upstairs. Cormac was young and inexperienced, and the case was closed before he got to the truth of what had brought the children to that house. Now that case is linked to a more recent suicide, and Cormac is determined to get answers.
Where did the inspiration come from?
For me The Ruin is all about the children, about Maude and Jack. At the very beginning of the book Maude is fifteen and Jack is only five. I understood how she felt about him, how she has loved him, and protected him from the moment he was born. But I knew too that a crisis point has been reached and she doesn't know if she can save him. I was lucky enough to have a happy childhood, but I was raised in a big Irish family, and I helped care for my younger sisters when I was very young, so I understood the intensity of what Maude feels for Jack. That almost maternal protectiveness that drives her.
Who would this book make the perfect present for?
This is cheeky of me I know (just because it was so damn good)…but what comes to mind first is the TV series Broadchurch. Ahem. I loved Broadchurch. I think part of what made it so riveting was that it was just a great old fashioned story with characters you could fall in love with. I adored the Ellie Miller character, played by Olivia Coleman. My protagonist is a man, but like Ellie he's just a genuinely decent person, good at his job but dealing with an impossible situation and trying to make black-and-white choices in a grey world.
What will you be reading this Christmas?
I got the new Tana French and the new Michael Connelly early. They were supposed to be my Christmas books…hasn't really worked out that way as I'm half-way through The Witch Elm (brilliant!) and eyeing up Dark Sacred Night already. So I think my Christmas book will be Educated, by Tara Westover. I've heard such great things.
When you're not writing, what do you like doing?
I live in Western Australia, and it's all about the outdoors in this part of the world! So I love heading to the park with the kids or our dog, a very silly and gorgeous golden retriever called Musha.
Tell us one Christmas tradition you follow without fail.
I'm used to cooking for BIG numbers (because my family in Ireland is extensive!). In Perth there's just me, my husband, our two children and Musha….but every year we still do the whole Christmas feast. We might hit the beach in the morning, but we crank up the air con in the afternoon and do the starter, the Christmas turkey with all the sides, and at least two desserts. Last year's standout was a version of the panettone bread and butter pudding from the Jamie's Comfort Food book…oh my god! Recommended!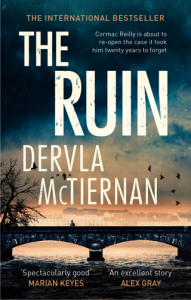 ---
For more introductions to authors of all genres, as well as behind-the-scenes exclusives join Clare's free book club . Clare's latest book, Let Me Lie, is out this month in paperback.