Every day until Christmas Eve I'll be introducing you to an author whose debut novel came out this year. Today it's Lucy Ayrton.
About Lucy Ayrton
Lucy Ayrton is Communications Manager of a prisons charity, and much of ONE MORE CHANCE is informed by the people she has met and the time she has spent in prisons, especially on the Holloway Mother and Baby Unit. She has an MA in Creative Writing from Warwick University, and is a lively presence on the performance poetry scene. She also blogs as Lucy In The Pub With Cider, about literature, feminism and baking. This is her first novel, and was a finalist for the Exeter Novel Award.

Tell us about your book.
One More Chance is commercial women's fiction with an unusual edge. Dani has been in and out of prison her whole life, and desperately misses her child, who was taken into care. When she gets a mysterious new cellmate who offers to let her see the child, should she trust her? And can she escape her circumstances and get her life back?
Where did the inspiration come from?
I've worked for a prison charity for the last eight years, and a big part of the inspiration was from visiting prisons and meeting people in them. It's an environment most people never see or think about, and there are a lot of stereotypes about prisoners I wanted to examine.
Who would this book make the perfect present for?
It would be good for people who like Orange Is The New Black, and anyone who is interested in gritty commercial fiction with a bit of a twist.
What will you be reading this Christmas?
I feel like Christmas is a time for ghost stories – I have a lot of happy memories of watching MR James adaptations with my Dad around this time of year! So I think my Christmas book might be The Corset by Laura Purcell. I loved The Silent Companions, it was terrifying!
When you're not writing, what do you like doing?
Long walks to the pub and reading in the bath.
Tell us one Christmas tradition you follow without fail.
We go and watch the Christmas show at the ERT, the theatre my mum is a Director of. I've known some of the people there since I was a little kid. I still have a lot of friends back in Beverley where I grew up and I love going somewhere I can see everyone and catch up and feel like part of a close community. And the play's always brilliant.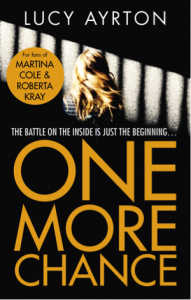 ---
For more introductions to authors of all genres, as well as behind-the-scenes exclusives join Clare's free book club . Clare's latest book, Let Me Lie, is out this month in paperback.