Every day until Christmas Eve I'll be introducing you to an author whose debut novel came out this year. Today it's AJ Pearce.

About AJ Pearce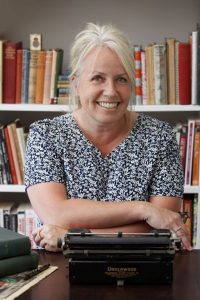 AJ Pearce's debut novel,
Dear Mrs Bird
is a Sunday Times Top Ten Bestseller. It has been translated into twelve languages and has now been optioned for development for television.
Tell us about your book.
Dear Mrs Bird is set in London in 1941 and is about Emmeline Lake, who dreams of being a war journalist, but gets a job on the problem page at a women's magazine instead. When formidable agony aunt, Mrs Bird, refuses to answer the readers, Emmy secretly starts writing to them herself.
Where did the inspiration come from?
A few years ago I came across a 1939 copy of a woman's magazine and was captivated by seeing wartime Britain through exactly the sort of magazine I'd read now. I began collecting vintage magazines (I have several hundred now) and along with the features, fashion and adverts, it was the problem page that I really loved. Every reader's letter is a story on its own and I knew straight away I wanted to write a novel about them.
Who would this book make the perfect present for?
The Observer called it, 'A joyfully uplifting and optimistic novel,' which I was thrilled about, and I think it appeals to people who liked The Guernsey Literary and Potato Peel Pie Society. The book is about female friendship and at book signings, lots of people have bought it for their best friend, or their mum or sister or wife. I really love that.
What will you be reading this Christmas?
I'm writing the sequel to Dear Mrs Bird at the moment so I'll have my head in a book written in the 1940s – probably a D E Stevenson novel or something from Persephone Books.
When you're not writing, what do you like doing?
I love being outside, dog walking or messing about with horses. And I'm a terrible vintage magazine nerd, so I'm often online looking for obscure copies of The Family Journal from 1910. I'm so tragic!
Tell us one Christmas tradition you follow without fail.
It always used to be listening to Children's Favourites with Ed 'Stewpot' Stewart on Radio 2. He'll be sorely missed again this year, but as an absolute definite, we'll be playing Christmas carols all morning and then eating Quality Street until lights out.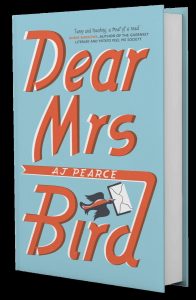 For more introductions to authors of all genres, as well as behind-the-scenes exclusives join Clare's free book club . Clare's latest book, Let Me Lie, is out this month in paperback.