Every day until Christmas Eve I'll be introducing you to an author whose debut novel came out this year. Today it's Jamie Paradise.

About Jamie Paradise

Jamie Paradise is the author of Night Time Cool, featuring the crooked-and-loving it DI Frederick 'the Fredster' Street and takes place at Christmas in Shoreditch, East London. It is the first of the Dreams of Sun quartet, the other three novels being sent in London and Ibiza.
Tell us about your book.
Night Time Cool is a crime thriller in which Elvis Street tries to take down his detested dad, DI Frederick Street, over a fake bust of a kilo of cocaine. Elvis caught his father in bed with his girl and so wants to end him forever. Except this is a father-son love thing and as neither realises how much the other comprehends what controls them complications ensue.
Where did the inspiration come from?
Night Time Cool unfolds over a snowy Yuletide and its inspiration came from a carol service at the church in my Cheshire village on Christmas Eve. As Silent Night was being sung I got the location and opening scene: the discussion of a fake cocaine bust between Frederick and son, Elvis.
Who would this book make the perfect present for?
The novel would be perfect for fans of Ian Rankin, Elmore Leonard, Irvine Welsh, James Ellory, Cormac McCarthy and Raymond Chandler. If it was a film Night Time Cool would be Pulp Fiction. Or as John Niven says: "Hunter S. Thompson does London crime."
What will you be reading this Christmas?
I am about to read Wuthering Heights yet again – a true "WOW!" of a novel – as this its characterisation, tone and atmosphere will also help with the novel I'm currently writing.
When you're not writing, what do you like doing?
Running, DJing House and Disco, looking after my two children, cooking roasts for the wife.
Tell us one Christmas tradition you follow without fail.
Too much wine and cheese – LOVE IT!!!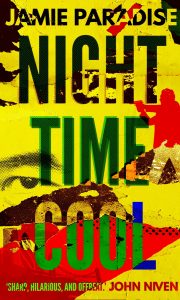 ---
For more introductions to authors of all genres, as well as behind-the-scenes exclusives join Clare's free book club . Clare's latest book, Let Me Lie, is out this month in paperback.