A Cotswold Family Life
is my sort-of-memoir; a compilation of columns I wrote for Cotswold Life magazine for nearly a decade. It's a beautifully published book, with some lovely reviews, and I was allowed to read the
audiobook
, which I loved doing. (My children listen to it when I'm away from home, which is a very bizarre experience!)
I've been fortunate enough to have the same illustrator – Laura Barrett – for two of my books: 
After the End
, and 
A Cotswold Family Life
. You can read Laura's post about the making of 
After the End
here
, and I'm delighted to have her back to explain the steps behind her beautiful illustration for the cover of 
A Cotswold Family Life
.
***
Illustrator Laura Barrett on creating a cover for A Cotswold Family Life
I was approached by the wonderful Art Director Hannah Wood at Clare's publishing house, who was looking for a cover for Clare's collection of articles on her time in the countryside, originally published monthly in Cotswold Life magazine. The memoir would be a 'a year in the life'; a seasonal look at family life in the Cotswolds.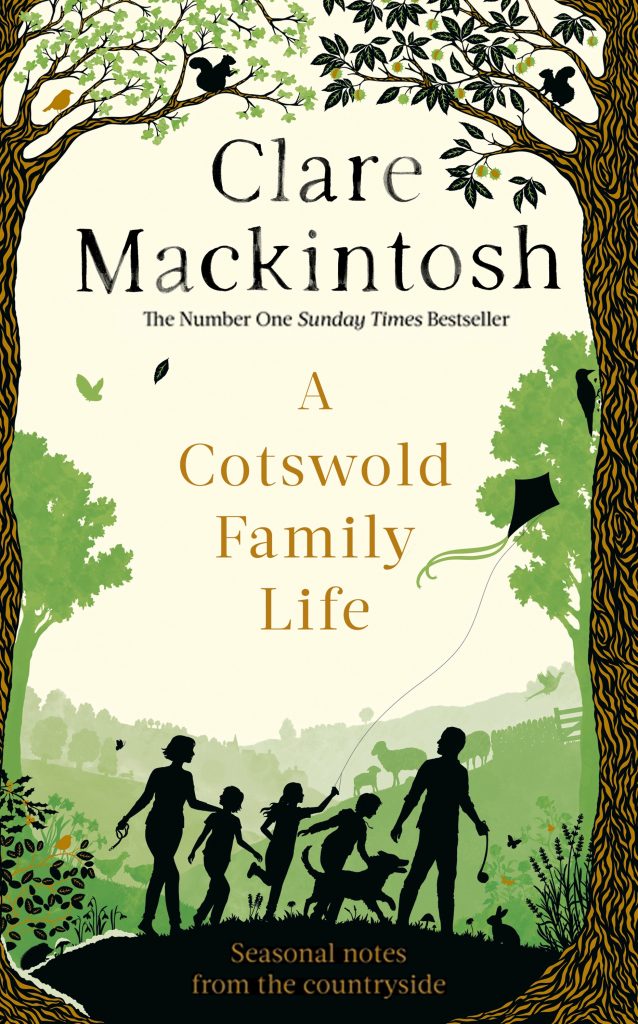 As soon as I read the synopsis, I was sold- my grandparents live in a cottage in Stroud, Gloucestershire so the Cotswolds have always been a picturesque place close to my heart and somewhere I've spent a lot of time during school holidays and beyond. It was the perfect commission for me.
The brief was to capture a moment of adventure, with characters loosely based on Clare and her young family. Framing this would be birds, animals and foliage to highlight the changing seasons.
Hannah sent me a loose sketch of where the text would be and a rough idea of how we could layer everything. Her composition turned out to be quite close to the final illustration. I first made a list of the various flora, fauna and animals found in the Cotswolds across the year, and several sketches of how the seasonal elements could work. I referred to Clare's Instagram to get an idea of how to draw her and her family, and was given rough descriptions by Hannah.

I work digitally, drawing with a Wacom graphics tablet into Illustrator. I draw each element separately before layering everything, experimenting with what works best as I go along. I drew the characters first, as this made it easier to layer everything around them. Sometimes I refer to hand drawn sketches and tracing paper layers, and other times I draw completely freehand. This was a combination of the two. Here you can see the layers building up, before adding more detail.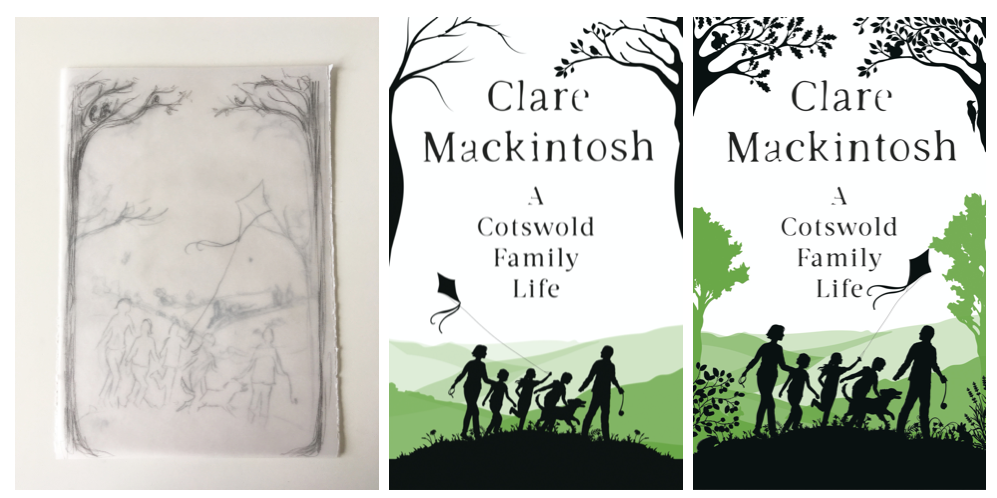 Just below is the first rough that I sent in, originally in several colour options: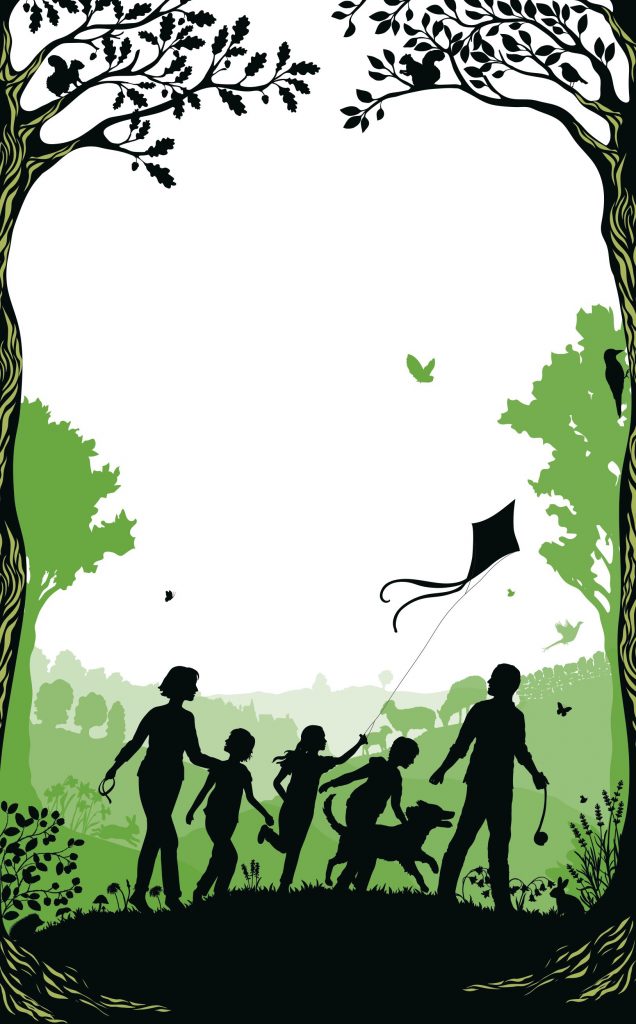 With book covers, there's normally an awful lot of back and forth in the design process. Due to the nature of publishing and the number of people involved; the design team, author, marketing, and so on, there's often several options for the cover design discussed, sometimes multiple rounds of changes and occasionally the odd rejection. I was over the moon when everyone was happy with the first round of roughs and I was simply asked to carry on doing what I was doing in a slightly different colour! A rare treat.
Here is the updated rough, with a lot more detail added and the new colour scheme.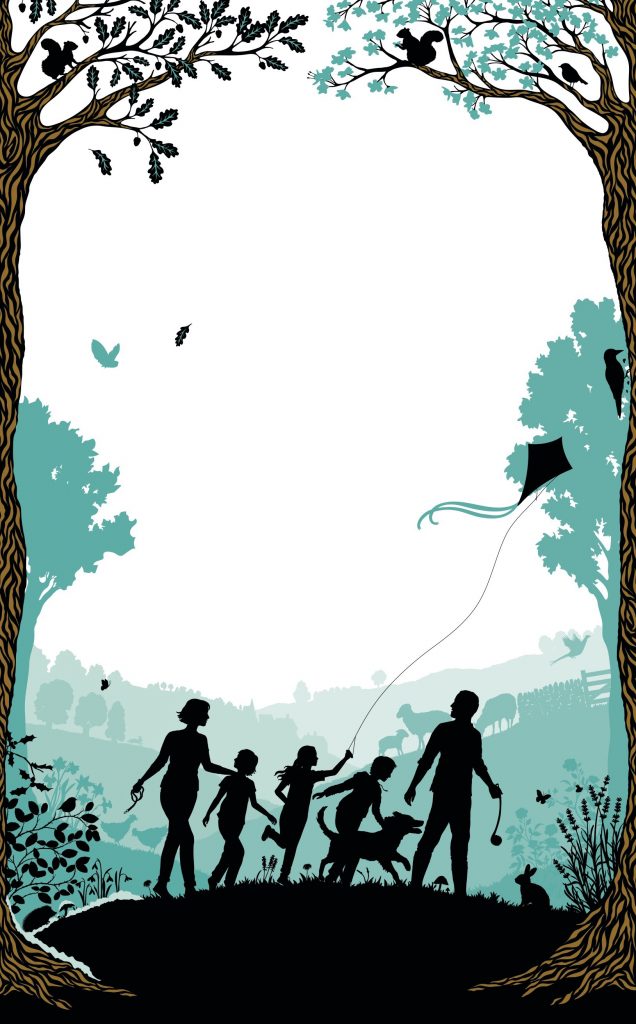 After this, the team decided on another colour approach and informed me that the cover was going to have foiled highlights- always an illustrator's dream to have something printed with foil! I decided that horse chestnut leaves and conkers would signify autumn better so changed these, added even more detail and finally some texture to the layers in Photoshop. I was so pleased with the final printed design!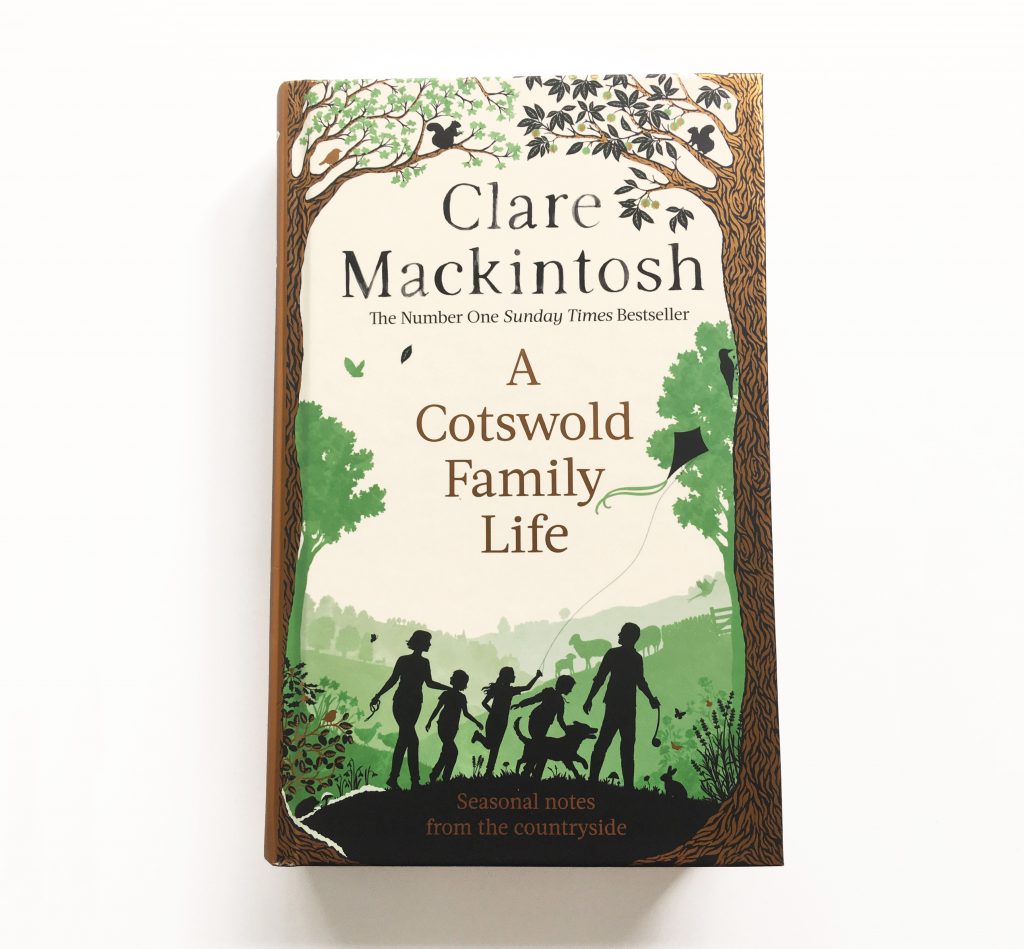 ***
And I was just as pleased! You can see more of Laura's work on her website.
A Cotswold Family Life is available in hardback from all good bookshops, and on Amazon, as well as in ebook and audio. If you'd like a personal dedication, I can arrange a signed copy.