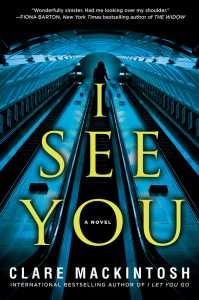 The author of the award-winning and smash bestseller, I Let You Go, propels readers into a dark and claustrophobic thriller, in which a normal, everyday woman becomes trapped in the confines of her normal, everyday world…
Every morning and evening, Zoe Walker takes the same route to the train station, waits at a certain place on the platform, finds her favorite spot in the car, never suspecting that someone is watching her…
It all starts with a classified ad. During her commute home one night, while glancing through her local paper, Zoe sees her own face staring back at her, a grainy photo along with a phone number and listing for a website called findtheone.com.
Other women begin appearing in the same ad, a different one every day, and Zoe realizes they've become the victims of increasingly violent crimes—including rape and murder. With the help of a determined cop, she uncovers the ad's twisted purpose…a discovery that turns her paranoia into full-blown panic. For now Zoe is sure that someone close to her has set her up as the next target.
And now that man on the train—the one smiling at Zoe from across the car—could be more than just a friendly stranger. He could be someone who has deliberately chosen her and is ready to make his next move…
Author Bio:
Clare Mackintosh, the international bestselling author of I Let You Go, spent twelve years on the police force in England and has written for The Guardian, Good Housekeeping, and other publications. A columnist for Cotswold Life and Writing Magazine, she is the founder of Chipping Norton Literary Festival.
Praise for I SEE YOU:
Wonderfully sinister. Had me looking over my shoulder. — Fiona Barton, New York Times bestselling author of The Widow
A brilliant second novel by one of Britain's most exciting newcomers. — Jeffrey Archer, #1 New York Times bestselling author of This Was a Man
Anyone who's ever looked over their shoulder when they heard footsteps behind them, or quickened their pace in a deserted underpass, will shudder with recognition at Clare Mackintosh's deliciously creepy tale of urban paranoia. – Ruth Ware, New York Times bestselling author of The Woman in Cabin 10
An intense psychological thriller that I inhaled with my heart in my mouth, I See You is an unsettling and claustrophobic read. Truly shuddersome. — Mary Kubica, New York Times bestselling author of The Good Girl
Buy I SEE YOU:
Hard Cover
Ebook
Canada