My new book is out in March. It's a standalone psychological thriller about new mother Anna, and her quest to uncover the truth about her parents' untimely deaths.
You can read the first chapter of LET ME LIE below.
---
Death does not suit me. I wear it like a borrowed coat; it slips off my shoulders and trails in the dirt. It is ill-fitting. Uncomfortable.
I want to shrug it off; to throw it in the cupboard and take back my well-tailored clothes. I didn't want to leave my old life, but I'm hopeful for my next one – hopeful I can become someone beautiful and vibrant. For now, I am trapped.
Between lives.
In limbo.
They say sudden goodbyes are easier. Less painful. They're wrong. Any pain saved from the lingering goodbyes of a drawn-out illness is offset by the horror of a life stolen without notice. A life taken violently. On the day of my death I walked the tightrope between two worlds, the safety net in tatters beneath me. This way safety; that way danger.
I stepped.
I died.


We used to joke about dying – when we were young enough, still vital enough, for death to be something that happened to other people.
'Who do you think'll go first?' you said, one night when the wine had run dry and we lay by the electric fire in my rented Balham flat. An idle hand, stroking my thigh, softened your words. I was quick to answer.
'You, of course.'
You aimed a cushion at my head.
We'd been together a month; enjoying each other's bodies, talking about the future as though it belonged to someone else. No commitment, no promises – just possibilities.
'Women live longer.' I grinned. 'It's a well-known fact. Genetic. Survival of the fittest. Men can't cope on their own.'
You grew serious. Cupped my face in your hand and made me look at you. Your eyes were black in the half-light; the bars of the fire reflected in your pupils. 'It's true.'
I moved to kiss you but your fingers held me still; pressure on my chin as your thumb pushed against bone.
 'If anything happened to you I don't know what I'd do.'
The briefest chill, despite the fierce heat from the fire. Footsteps on my grave.
'Give over.'
'I'd die too,' you insisted.
I put a stop to your youthful dramatics then, reaching to push aside your hand and free my chin. Keeping my fingers tangled with yours, so t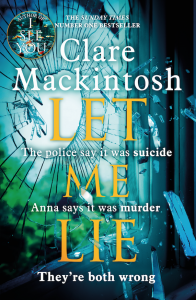 he rejection didn't sting. Kissing you, softly at first, then harder, until you rolled backwards, and I was lying on top of you, my hair curtaining our faces.
You would die for me.
Our relationship was young; a spark that could be snuffed out as easily as coaxed into flames. I couldn't have known you'd stop loving me; that I'd stop loving you. I couldn't help but be flattered by the depth of your feeling, the intensity in your eyes.
You would die for me, and in that moment, I thought I might die for you, too.
I just never thought either of us would have to.

---
If you like what you've read you can pre-order LET ME LIE from Amazon, Waterstones, WHSmith or from an independent bookshop. For more retail options, check this page.