I'm often asked what happens on a book tour, and although there isn't a simple answer (tours vary hugely from author to author, country to country, and book to book) here's a 'day in the life' of my most recent tour. I spent a few days in Italy to promote I See You, spending time in Rome and Milan, before visiting Nebbia Gialla, a crime writing festival in Suzzarra.
What happens on a book tour?
6 a.m. My alarm goes off in my hotel room in the centre of Rome. Yesterday was a full day of interviews, and it takes me a moment to remember where I am. I've brought my husband with me, and we head down for an early breakfast with my press officer.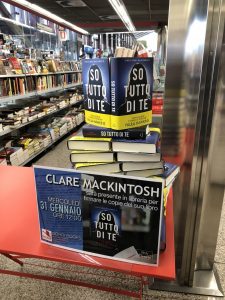 7.30 a.m. Our train to Milan is delayed, and I secretly feel bitter about the extra half hour's sleep I could have had…
8 a.m. The train is very fast and very comfortable, with reclining leather seats and free coffee. I resist the temptation to sleep, and instead manage 800 words on book four. Not a lot, but better than nothing.
A morning of interviews
11.15 a.m. We arrive at our Milan hotel. Because we're running late, I go straight into my first interview; with a journalist at TuStyle, a weekly magazine. My interpreter, Chiara, does this one consecutively (translating the question for me, listening to my answer, then translating that, and so on), as per the journalist's preference. My husband heads out to explore the city.
11.45 a.m. My next interview is with a web magazine. It's another consecutive one, and while Chiara translates my longer answers, I send a quick text to my mother-in-law to make sure everything's okay with the children. I get a sudden wave of homesickness, and tiredness makes me feel a bit emotional.
12.15 a.m. Next up is a phone interview with the daily newspaper L'Eco di Bergamo. The journalist is happy for Chiara to translate our conversation simultaneously, which speeds things up considerably. It feels a little bizarre, talking to someone (the interpreter) who is in turn talking to someone else. I have a flashback to being in the police, listening to a radio in one ear and a separate conversation in the other.
12.45 p.m. The final interview of the morning. It's in person, and the journalist asks great questions that really perk me up. Interviews often cover exactly the same questions (I often get confused about whether I've already said something, or whether that was the previous interview!) so it's really nice to have a bit of variety.
1.15 p.m. Lunch. I have five minutes to scoot up to my room, where I discover my husband has unpacked my bag and even put my toiletries in the bathroom. Do you think he'll expect a tip? I freshen up quickly and join my press officer and interpreter in the restaurant. I order chicken with rice, to make a change from the (amazing) pasta I've had in the last two days. It's delicious. I don't like coffee, but I order an espresso to finish, because I need the caffeine hit.
The afternoon: interviews and signings
2.45 p.m. We take a taxi to the radio station for an interview with Radio24. The presenter is lovely, and asks great questions. Chiara translates simultaneously for me, away from the microphone, then I answer in English. The show is pre-recorded, so Chiara's translation will be played over my answers when the segment goes out.
3.30 p.m. Another taxi ride, this time to Mondadori bookshop, to sign copies of So Tutto Di Te (The Italian title for I See You) and chat to booksellers and readers. As I mentioned earlier, what happens on a book tour varies enormously, but visiting book shops is definitely the best bit 🙂
4.00 p.m. More book signings, at a lovely bookshop called Hoepli. I practice the few words of Italian I've picked up (Grazie mille, sono molto stanca…)
5.30 p.m. I have a telephone interview with a journalist at Metro. He asks for consecutive translation and I'm glad, because while Chiara is translating my answers, or listening to his questions, I check my emails. My UK publicist is hard at work organising a launch tour for Let Me Lie, so there are a few things to check and reply to.
6.00 p.m. My publishers have arranged for some Italian book bloggers to come to their offices for a Q&A, which is also live-streamed on Facebook. It's a great event, and we take some photos afterwards.
The evening. No rest for the wicked…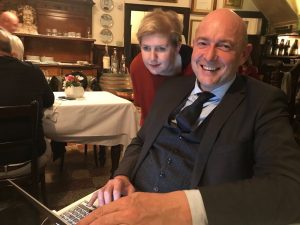 7.45 p.m.
Dinner is at 8.30 p.m. so I text my husband and arrange to meet him at the restaurant at 8 p.m. We have a glass of Prosecco and half an hour to ourselves, which is really nice.
8.30 p.m.
Everyone arrives. As well as my press officer, we're joined by my editor and publisher, and the commercial sales director. Everyone is lovely, and we discuss their plans for 
So Tutto Di Te
, among lots of other things. The food is fantastic.
11.30 p.m.
We leave the restaurant and walk back to the hotel, and I check the schedule for tomorrow, when we do it all again…
---
So Tutto Di Te is available from DeA Planeta, or in English from a variety of retailers. My next book, Let Me Lie, comes out in March, when I'll be touring the U.K., and also visiting France and Norway. Events are listed here as they're confirmed.
Join my book club to receive early notification of signings and panel appearances, as well as quarterly newsletters with recommended reads, giveaways and exclusive extras.