In this series of blog posts I'm going behind the scenes to find out more about the various roles involved in publishing my books. So far we've met Cath Burke, in what does an editor do? Thalia Proctor, in what does a desk editor do? and Hannah Wood, in how are book covers designed? More people than ever are choosing to listen to books rather than read them, but how do you record an audio book?
Meet the audio publisher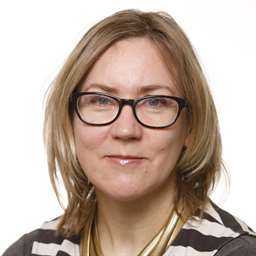 Meet Sarah Shrubb, the Audio Publisher at Hachette Audio and the person responsible for publishing all three of my books on audio.
How do you record an audio book?
Actually recording the audiobook usually takes 3-5 full days in the recording studio followed by at least another 3-5 days to edit the audio files, but the process of casting and scheduling the recording starts around 3 months before the book and audiobook are published. I start to think about the perfect narrator as soon as we have an edited manuscript, but our producers always have brilliant casting ideas, so we discuss it between us and then suggest possible readers to the author. Once we've cast, we send the actor the final text of the book – and it must be the final text, of course, as the audio must be exactly the same as the book. The actor will read the full script at least once before even entering the studio, as they will need to know the full plot and to have prepared all the voices for all the characters, and checked the pronunciation of any unusual words or names – the prep can take longer than the actual recording! We cast Let Me Lie in November 2017 (narrated by Game of Thrones actor Gemma Whelan) to record in January and publish in March.
Why are some books abridged, and others read in full?
Nearly all audiobooks are recorded as unabridged downloads these days. We used to abridge them as they had to fit in a standard boxed set of 5 x CDs – that's about 6 hours of audio, which is approx. half of an average-length novel. Now we publish as downloads we don't have this restriction, so it doesn't matter if the recording is 5 hours or 45 hours and we can still publish all of it.
How do you select the right voice artist for each book, and how involved is the author in this process?
We involve the author as much as possible in casting as it's vital that they're happy with the 'voice' of their book. If there's a strong central character, such as Anna from Let Me Lie or Zoe from I See You, we look for an actor who can be identified with them and give them a voice. It's more difficult if we don't have that, and we'll use other clues such as the book's setting, the age of the characters, etc. On a basic level, the narrator must be able to cope with the text e.g. if the dialogue includes a lot of accents, they must be able to do those convincingly. More subtly, the narrator must be a good fit, so perhaps the text needs a really energetic, buzzy narration rather than a slower, more classic style, so we would go for narrator who can do that. We usually offer a selection of possible narrators to an author, all of whom would do a great job, but each may offer a slightly different style – that means that even if our author doesn't feel any is quite right, we can find out why that is and understand a little more of how they hear the book.
Audio books are becoming more and more popular among readers – why do you think this is?
I think it's a combination of the massive choice of very high-quality recordings available now, the ease of being able to buy, download and play in just seconds, plus the familiarity of listening to audio in so many situations – commuting, exercising, driving or doing mundane tasks, and listening with headphones or through speakers, or even through devices such as Alexa. All these elements are pushing each other along (e.g. the more general demand for audiobooks there is, the more nuanced that demand will be and so the range of titles will expand) and we're now at a tipping point. Of course this is all helped along by audiobooks being thoroughly addictive and once you've tried one, it's very hard not to go for another!
What are some of the challenges presented when converting a story from written to audio form? 
One of the major challenges with the very clever plotting that Clare is such a genius at is how to not accidentally give away the identity of the villain. For example, a chapter that includes the voice of the as-yet-unnamed villain is really effective in a book, but if that character has already had a speaking part in the audiobook, we have to think round how to disguise their voice so the listener doesn't realise who the villain is – and we can't just change the voice completely as the listener would feel cheated. Another challenge for our narrators is scenes where lots of characters are talking together, especially if they're emotional or angry scenes, as the narrator has to act every line in every voice e.g. they might have to act out a heated argument between a young Scottish boy, a teenage girl from Essex and an old heavily accented man from Germany, and not muddle up the accents.
What's the most enjoyable part of your job?
The end point when you've worked with the author to get the perfect voice for the book, the narrator has read brilliantly and you know that it's not just a fantastic recording, but a version of the book that the author's fans are going to love too.
If someone has never listened to an audio book before, what would your advice be? 
There are lots of ways to try narrative audio for free: podcasts are different from full-length books but you can listen to shorter fiction and non-fiction, and Radio 4 is full of great dramas and serialised books. Or you could have a look at (and listen) the websites of retailers such as Audible and Kobo as they include extracts from all titles, plus you can download your first title for free to see (or hear!) what you think. My advice would be to start with the same kind of books that you read as you already know you like them, select some that you would like to read anyway, have a listen to a few of the extracts to check you like the narration, and then download the one you like the sound of the best.
Tell us something about the audio version of Clare's next book, LET ME LIE.
I'm really looking forward to this one. Gemma Whelan is perfect as Let Me Lie's central character Anna, as well as playing all the other characters. She's brilliant at conveying all the tension and emotions from the book. I can't say too much as I don't want to give anything away, but Clare gave us another really twisty, exciting and challenging audiobook to record!
---
Note from the author: Gemma is indeed a brilliant narrator for Let Me Lie, and I'm thrilled with the end result. The audio version of the book includes a thirty-minute Q&A interview with me, answering questions sent in by early readers of the book. I really enjoyed recording it, and love the fact that it's only available to audio book listeners! 
Next up: what does a rights agent do?