In this blog series I've delved behind the scenes to learn about the various roles involved in publishing my books. So far we've met Cath Burke, in what does an editor do? Thalia Proctor, in what does a desk editor do?, Hannah Wood, in how are book covers designed? , and Sarah Shrubb, in how do you record an audio book? My books are translated into more than thirty-five languages, and that's all down to the fantastic rights team at Little, Brown Book Group. But what does a rights agent do?
Meet the rights agent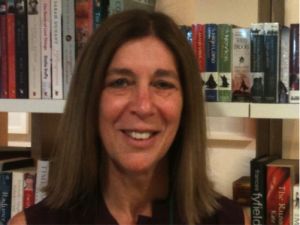 Andy Hine joined Little, Brown in 1996 after ten years of freelance work in publishing, became Foreign rights Director in 2005 and is now joint Rights Director, managing the department with Kate Hibbert. Andy handles serial, film, large print, audio and digest in the Little, Brown Book Group (LBBG, hereafter) imprints and looks after translation rights in the Baltic States, South America, Germany, Italy and Scandinavia. Andy won the Bookseller Rights professional of the year Award in 2012.
What does a rights agent do?
There is always something to do in the Rights department. Every day there are rights deals to be done – whether it is domestic rights – (selling large print, audio  and serial rights) –  or foreign and US rights. In October 2017, we estimated that LBBG Rights team agreed 2.1 deals per day.
Every day there is material in upcoming publications to be submitted to publishing interest – both for domestic rights, US & translation and for film interest. Every day there are submissions to be chased  for publishing interest – whether domestic or foreign. When we chase, we share any recent potentially good news about the book.  LBBG Rights maintains constant communication with our partners in publications – translation and US – to share information to help launch our authors globally.
Every week there are meetings LBBG Rights attends – editorial, acquisitions and other intra-departmental meeting with publicity and marketing as well as meetings with visiting scouts, publishers, authors and agents. LBBG have a weekly meeting to update each other on deals agreed or under negotiation, to discuss various department issues and to assess the rights potential of the various proposals coming up in that week's acquisitions meetings.
At what stage of the publishing process does the foreign rights team get involved?
The Rights department is involved from the very beginning when a book is acquired. The editorial team share material in the upcoming title pre-acquisitions and the Rights department discusses what rights to bid for, and forecasts rights income on the exploitation of  these rights.
How much do you travel, and how important is this travel to your job? 
We travel to visit foreign and US publishers in our individual territories – this is important as these visits build on existing relationships, and give us an opportunity to discuss our projects in greater detail. We also attend the major bookfairs – ie Frankfurt, London. Goteborg and this year our Joint Rights Director, Kate Hibbert, attended the Beijing Book Fair.
What role do you play after a translation deal has been agreed? 
We draft and execute the paperwork of the deal, then, as we get closer to our publication we share marketing and publicity campaigns with our licensees to help them achieve the best possible publication launch. We keep the international scouts and our foreign colleagues up to date with rights sold and all our good news – be it excellent reviews, interviews, and/ or awards. We try to facilitate author involvement with foreign and US publishers where rights have been exploited to help our authors achieve global recognition wherever possible. Clare Mackintosh is the prime example of an author who has achieved global success – she has attended crime festivals from Scandinavia to Mexico and bookfairs all over the world,  and has won accolades all through the world including the hugely coveted Polar award in France.
How many languages are spoken within your team? Is it essential to speak a foreign language to do your job? 
We have five languages in our team – it is not essential to speak a foreign language but it is an asset.
How many different territories are there?
There are as many 'territories' as languages but translation rights in books do not sell in every language. For example there are over 100 languages in India, but Marathi language rights sell more than the others languages even this language is infrequent in our rights deals.
Tell us something about the process of working on Clare's new book, LET ME LIE.
Clare's first book. I LET YOU GO, sold into 36 territories and some of these publishers are just now publishing the first book. So we potentially have 36 option publishers for  the new book. Clare's publishers in Germany, Finland, Norway and France offered for rights in LET ME LIE sight unseen. As soon as Rights received the updated Information Sheet for LET ME LIE, we shared it with Clare's option publishers and the rest of the world. Once the book was scheduled, we arranged a special author's dinner for Clare and her foreign publishers in Frankfurt. We printed samplers of the first third of LET ME LIE for the dinner and Clare signed them and gave her option publishers gorgeous Welsh love spoons. The option publishers were all deeply moved to receive the love spoons with Clare's personal message and the LET ME LIE sampler very successfully whetted everyone's appetite for more. LBBG featured a gorgeous eye-catching poster of the cover for LET ME LIE at our stand in the Frankfurt book fair that solicited much interest and praise. We have now sold LET ME LIE into 20 territories, with many more to come.
---
Note from the author: I love working with Andy and her team, who work so hard to put my books into the hands of readers all over the world. You can see some of the different covers for Let Me Lie here. 
Next up: How are books translated into different languages?