You might have been forgiven for thinking that my series on people in publishing had come to an end. After all, we've looked at: what does an editor do?, what does a desk editor do?, how are book covers designed?, how do you record an audio book?, what does a rights agent do?, how are books translated into different languages? , marketing fiction,  AND what does a book publicist do? Phew! But there's one final important piece of the puzzle: the bloggers who spread the word about books they've loved. In this post we'll find out what they do, and – for anyone interested in taking it up – take a look at how to be a book blogger.
Meet the book blogger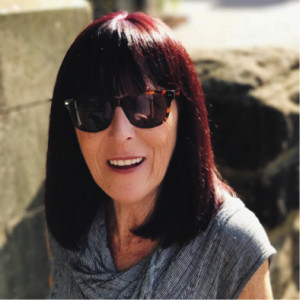 Anne Cater is a book blogger at Random Things Through My Letterbox.  She lives in Lincolnshire with her husband and their two cats, Costa and Nero.
How to be a book blogger: how did you get started?
Random Things Through My Letterbox was born in March 2011, I can hardly believe it's been almost seven years!
Years ago, I used to review books for Waterstone's magazine, as part of their Reader Review feature. I also reviewed for New Books Magazine.
When Waterstones withdrew their feature and the magazine disappeared I decided to create a blog, so that I had somewhere other than Goodreads and Amazon, where all my reviews were together.
I hadn't done anything like it before and had no idea about blogs, or creating content and taught myself as I went along.
How has your blog grown over the years?
Random Things has gradually taken over my life! I've had almost 1,000,000 views in the past seven years and some of my posts get over 1000 views of their own.
Publishers began to notice my reviews, especially when I joined Twitter and started to shout about the books. I now review for most of the large publishers as well as some smaller, independent houses and occasionally for self-published authors.
I have a regular feature called My Life in Books; where authors and other people in the publishing industry talk about the books that are special to them and have influenced them.
Last year Random Things was nominated and short listed in the UK Blog Awards; Arts and Culture category.
How many books do you read every month?
It varies, but usually between eight and ten. I work at our local Hospice, and am the Clerk to the local Parish Council as well as some freelance PR work, so I don't get the time to read as much as I'd like to. Luckily I've always been a fast reader and can easily devour half a book in one sitting, when I get the chance.
Where do your books come from?
Anyone who follows me on Twitter will have seen that I get lots and lots of #bookpost – I try to post pictures, to say thank you to the publishers and authors that kindly send books to me.
So, I get ARCs from publishers and authors, but I also buy lots of books. I love hardbacks and will often treat myself to the hardback copy of an ARC that I've read and loved. I love independent bookshops, and second-hand bookshops and can never resist a sneaky purchase.
Do you make any money from book blogging? Are there other perks to the job?
I would never accept payment for a book review. I have been offered money to review a book, but for me, it's a huge no.
Eighteen months ago, I began to organise blog tours for No Exit Press, and then a couple of months after that I was commissioned by Orenda Books to organise their tours. Earlier this year, I decided to offer this service to other publishers and authors and I've been overwhelmed by the success so far.
I've organised tours for Transworld, including books by Tess Gerritsen and Rachel Rhys; for Headline and Quercus, and have more publishers coming on board all the time. I've also organised tours directly for authors, which have been really successful.
So, yes, I am making money via my blog, but not for reviews!
There are some wonderful perks to the job. I've been invited to some amazing events and met some of my hero authors. I've been to The Ivy with Jojo Moyes; on the Orient Express with Agatha Christie's great grandson, and attended private screening of films.
Receiving early copies of much anticipated books is an honour and actually talking to authors who I've admired for so long is very exciting.
How important do you think book bloggers are to authors?
I really think that book bloggers can be really important, especially these days when marketing budgets are cut and so many new books are published. The book blogging community is supportive, and we share each other's posts, increasing the reach of any reviews and features for authors.
What is your favourite genre, and which authors' books would you move to the top of your TBR pile?
I do love crime and psychological thrillers, and great contemporary fiction is always welcomed. I have varied tastes and there are very few genres that I don't read. I have a long list of favourite authors, and I would feel terrible if I picked out just a few, so I won't!
---
A huge thank you to Anne for taking the time to tell us how to be a book blogger, and why she loves it; and thank you to everyone who has featured in this blog series over the last few weeks. I hope you've found it as interesting as I have!