If you've chosen I See You as your book club read, I'd love to hear about it! I regret that I'm rarely able to attend book club meetings, either in person or online, but I hope these book club questions for I See You give you a starting point for your discussions.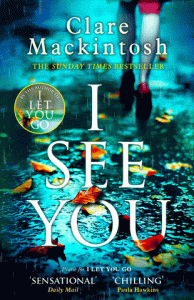 Book club questions for I SEE YOU
Do you commute to work on a daily basis? If so, how much variation is there in your route? If you're not a commuter, what other routines do you follow? Do you ever see the same people in the same place on a regular basis?
As you were reading the book, who did you think was the perpetrator of the crimes? Were you surprised when the truth was revealed?
Discuss DC Kelly Swift's motivation. How did her sister's experiences impact on Kelly?
Will I See You change your own routines? What advice would you give to someone who has a daily commute?
Discuss the relationship Zoe Walker has with her family: her ex husband, her partner, and her two children. Does Zoe give her children the right amount of independence? What parenting advice would you give her?
How do you think advances in technology change the way crimes are committed? How do they impact on the way crimes are investigated? Does technology make the police's job easier or harder?
CCTV is a part of life in most busy areas of the UK. How do you feel about surveillance cameras? Do you feel safer knowing there are cameras there, or do you object to being watched?